Talend Data Migration – Changing business needs and market demands make it imperative for enterprises to ensure sustainability by adopting to new tools and technologies. This modernization also involves a data migration process that is much more than a simple conversion from A to B. There are several scenarios, which require a robust, scalable and flexible tool set for data migration and management – for example:
Market agility & organizational growth demand a more scalable system architecture (e.g. ERP or CRM migrations)
Consolidation of multiple (satellite) systems to a new central core environment
Software vendor support termination creating the need of exchanging parts of the IT infrastructure
Redesign of system architectures with mergers & acquisitions
Leverage functionality of new technology stacks (databases, big data, cloud services & applications,…)
Based on three reference cases, we would like to give you a brief summary of the flexibility and capability Talend can offer to support complex migration projects.
Use Case 1: ERP migration from Navision to SAP S/4 HANA
One of our clients – a leading financial service provider – had planned a migration of their legacy Navision environment to SAP S/4 HANA. The Navision software was not able to scale further with the growth of the company. Beside limitations for daily business tasks and manual workarounds in place, maintenance and operational costs of the system became uneconomically, resource consuming activities.
With the move to a new ERP package and due to compliance regulations in the financial industry there were some important key requirements regarding data migration:
Easy connectivity & meta data management for both data extraction & loading
Scalable framework for processing large data sets & complex data objects
Extended capabilities for data cleansing and validation of sensitive data
Audit trail & reporting for all data transformation steps during the migration
With a native integration of data integration & data quality components, Talend provides a flexible, low-cost integrated data management solution and migration toolset:
Model and map data transfer services and data transformations with more than 900+ components & connectors
Visual design of data flows in a drag-and-drop graphical development environment allows key business users to cooperate with migration team
Out of the box integration with both ERP systems – use configurable connector components to easily read from or write to nearly any type of file format, database, mainframe system, or enterprise application, as well as cloud and SaaS data services
Extended logging and reporting incl. audit trails & data lineage – also supported by our cimt jobinstance framework
Subscription based license model with a predictable TCO for the migration project
As leading technology partner for SAP integrations with Talend we had the chance to support our customer with this challenging migration project, moving millions of data records and facilitating the roll out of SAP S/4 HANA. Beside the source-target mapping and conversions, Talend's capabilities were used for the orchestration of migrations jobs – including managing the chronology and logic to transform & move dependent data objects to SAP. Setting up the project this way ensures consistency and robustness and in case of errors or failures options to recover, restart and monitor the process.
Our Talend migration framework enables a consistent approach over all stages of the migration process:
Identification
Data Extraction
Profiling & Mapping
Conversion & Quality Control
Load Preparation
Load Execution
Migration Reporting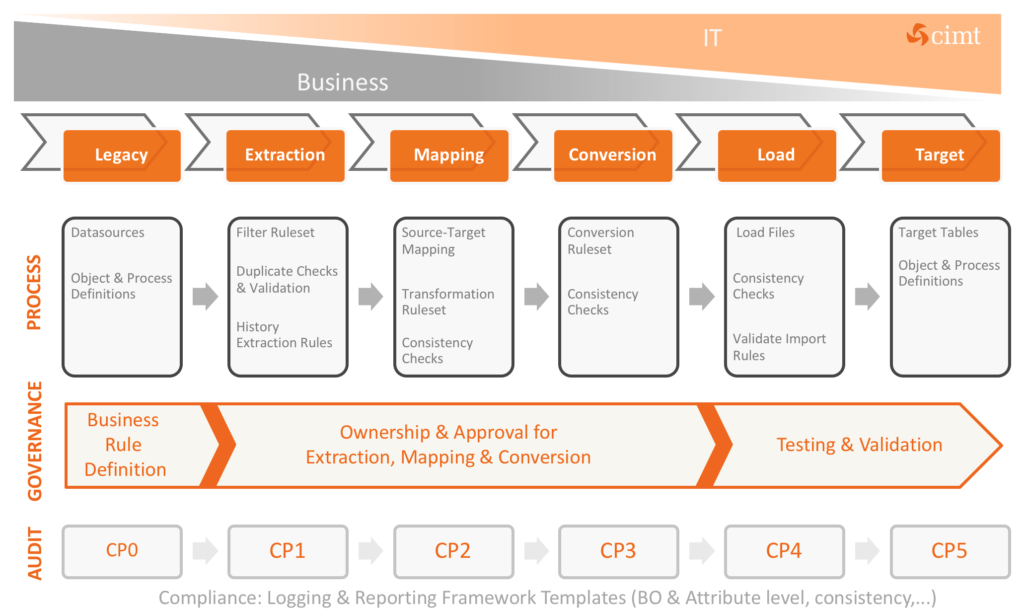 – cimt data migration process framework –
Applying this standardized approach for all process steps ensures security, validity and integrity of the data during the migration. Establishing these steps, workflows and the according documentation with this customer resulted in a smooth migration.
Follow us and stay tuned
With our next part of this series of successful project references using Talend, read more about how we support consolidation of multiple system instances with our migration framework and how to apply Talend's data quality capabilities for data deduplication.
Interested how we can support you with data migration projects? Do not hesitate to get in contact with us for more information and live demonstrations.